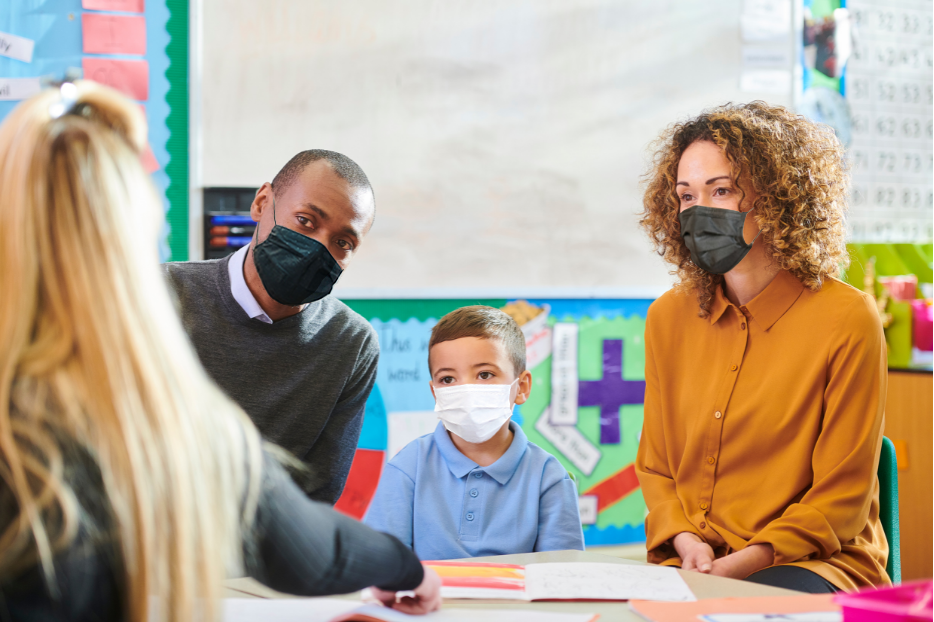 Building Sustaining Advocacy Teams in Challenging Times
By Amanda Trimillos, EdD
Advocacy, communication, and partnership are all terms often used early in a military-connected student's transition to a new campus. Shifts in learning platforms to e-learning, hybrid learning, and social distancing have challenged schools and families to become creative in how they build, operate, and strengthen student-advocacy teams.
For many military-connected families, the pandemic-induced school experience, now spanning three academic school years, has created a negative academic and social-emotional impact on students and their learning experience. Any military-connected student who has faced a move to a new school during this timeframe feels the impacts of their traditional Season of Leaving and Season of Arriving as well as the added challenges of transitioning amid a pandemic.
Strong student-advocacy teams recognize this unique challenge for our military-connected student population.
Build the Advocacy Team
The first step in building an advocacy team in or out of a pandemic situation is to recognize who should be part of the team. A traditional student-advocacy team is built by the classroom teacher and parent, together with the student when appropriate. A strong communication strategy is critical between the classroom teacher and parent. Conversations should center around classwork and homework expectations as well as deeper discussions of how the student is adjusting to the school, classmates, and the pandemic learning environment.
Take extra care to recognize that a student transitioning to a new school during the pandemic may experience increased gaps and overlaps of student learning. But, just as important as academics, the student-advocacy team needs to pay special attention to focus on student needs and open the conversation around the emotional and mental health status of the student.
Invite the School Counselor
These discussions bring opportunities to assess whether a military-connected student is struggling to adjust or beginning to thrive on campus. If a student is struggling, it is time to invite others to the advocacy team. The school counselor is a great campus resource for both academic and emotional support. A counselor can work alongside the teacher and parent to help develop a multi-step plan to support the student. Often, school counselors have access to added resources like tutoring and emotional support strategies.
Consider MFLC Support
Many schools and districts also have access to Military Family Life Counselors (MFLC). An MFLC can become part of the student-advocacy team. With parental permission, MFLC can support military-connected students as they deal with everyday stressors such as communication, family dynamics, grief or loss, deployment, reintegration, relocation, and relationships. Even when a MFLC is not assigned to a particular school or district, families have access to MFLC support by calling their installation military and family support center or MilitaryOneSource.
Military Family Liaison
Some military-connected school districts now have on staff family liaisons for military-connected youth. While these liaisons do not work directly with students, they are often available to partner with parents and families who are new to the school. The liaisons help families understand a school's culture, policies, procedures, and practices. Often, they can help the family make connections to resources within the greater community to help a student acclimate to the area.
Tutor.com for Military Students
When making plans to support students with academic struggles, the first step is to work directly with the teacher and then look to tutoring and homework help offered through the school. Often students do not realize they need help on individual assignments until they are home. In these cases, a free membership to Tutor.com allows military-connected students access to tutor help around the clock. Tutor.com offers personalized help in more than 100 subjects for grades K-12 and college students.
Student-Focused Reminders 
Keep the student at the center of conversations
Focus conversations on specific supports for the military-connected student
Ensure everyone agrees to the level and type of support offered by the school and obtain parental permissions as required
Include the student in the decision-making process
Be creative in communication techniques (e.g., a mix of in-person, phone, email, video conferencing)
Set a plan to connect at regular times to check progress
Times are challenging for students, parents, and teachers alike. A strong student-advocacy team ensures all key roles work together to provide the best possible support for student success.
Amanda Trimillos, EdD, is a military spouse, mother, and National Board-Certified teacher with extensive experience teaching military students in the United States and overseas. She is coauthor of Seasons of My Military Student: Practical Ideas for Parents and Teachers and wrote the essay "School Choices and Changes" in  Stories Around the Table: Laugher, Wisdom, and Strength in Military Life.
---
More about advocacy teams and supporting students in pandemic circumstances and transitions: