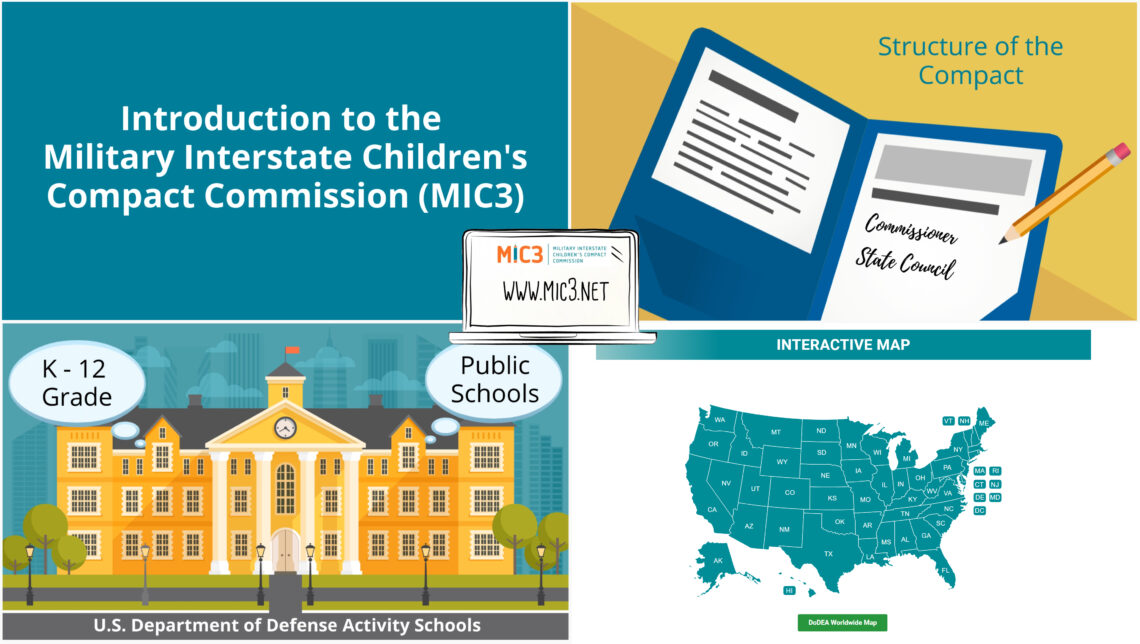 MIC3 Offers New Resources for Military Families and Schools
By Stacy Allsbrook-Huisman
There are many online resources available to military families, from blogs to official government sites. When it comes to school transition and military-connected students, an outstanding resource to turn to for up-to-date information is Military Interstate Children's Compact Commission (MIC3).
MIC3 is a commission with representation from every US state and the District of Columbia, all of which have agreed to the Interstate Compact for the Educational Opportunity for Military Children (Compact). According to the Council of State Governments, "A compact enables the states—in their sovereign capacity—to act jointly and collectively, generally outside the confines of the federal legislative or regulatory process."
MIC3 oversees the Compact, which helps provide a smoother transition for military-connected students in public schools as they transfer between school districts in different states.
How each state approaches education requirements and curriculum is different, and  navigating how and when the Compact is applied can be tricky. That's why MIC3 recently launched several new online tools for military families and educators. MIC3's website features resources ranging from videos and webinars to interactive maps and downloadable brochures. The commission wants to be the one-stop shop for parents and schools when it comes to understanding the Compact.
Cherise Imai, executive director of MIC3, is hopeful the organization's online tools will help military families navigate the challenge of changing schools and other issues resulting from a military Permanent Change of Station (PCS). "We want to give parents the tools for what they need to know when changing schools," she says. "We think these online videos and resources can give parents a good running baseline about the Compact."
There are many assumptions surrounding the use of the Compact. Parents may believe the Compact covers more than it does. Cherise stresses the importance of knowing what the Compact covers. "We want to make it easy for parents to find the information they need before they need it. These videos are a great way to familiarize yourself with provisions," she says.
MIC3 Video Resources
One online resource Cherise recommends is MIC3's YouTube channel. She emphasizes the two short videos that sum up the Compact for parents and educators: MIC3 Summary and MIC3 Summary with Provisions. They are easy to understand and shareable.
School Liaison Directories
Another of MIC3's recently added resources is a set of directories to help families find School Liaisons across the country. Liaisons are key to helping military families transition to new schools. They serve as the primary point of contact for school-related matters and help build partnerships between the military and schools. Every US military installation has at least one liaison assigned to help minimize issues relating to school transition for military-connected students. Parents can now find liaisons in their area with just a few clicks.
The map also offers a fully interactive list of MIC3 Commissioners in every state and how to contact them.
The Compact is a great guideline for parents but not every school is aware of what it covers and when it can be applied. Parents can print a copy of the Compact before moving day, and review and highlight the provisions that apply to their student. Hand-carry the printed version of the Compact with the student's Education Binder through the PCS move. During school registration, if issues arise, the Compact can be easily referenced.
As for the MIC3 website, Cherise says there is more to come. "We are expanding our podcast and webinars this next year and hopefully a few more videos for parents and school access. We've grown so much since we started, I'm excited to see where our growth takes us."
Stacy Huisman is an Air Force spouse, mother of two, and freelance writer. An advocate with a passion for military-connected children and their families, Stacy is coauthor of Seasons of My Military Student: Practical Ideas for Parents and Teachers. She's dedicated the last decade to understanding the challenges military kids face when changing schools. 
---
More about supporting students during transitions: